Cameo's Web Page
Shetland Sheepdog Sheltie (medium coat) : : Female (spayed) : : Adult : : Medium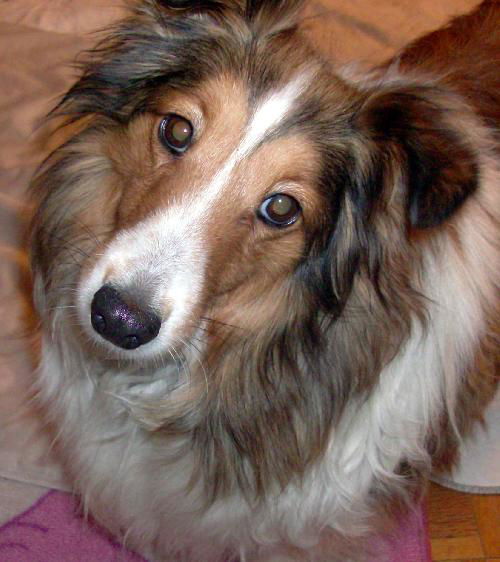 Learn more about the Shetland Sheepdog Sheltie.
Cameo needs a caretaker or foster! Won't you consider helping her get a new start?

Donate or Sponsor

Your support is needed to save the dogs we love.

A sponsorship of $5.00 or $10.00 a month helps your favorite dog more than you might think. Please consider making a small donation.


PetMeds Graciously Supports Our Cause
Happy little Cameo is shy at first but loves everyone!
About Cameo

Status: Adopted!
Species: Dog
Rescue ID: D110001
Color: Sable and White
Current Size: 30 Pounds
Potential Size: 25 Pounds
Current Age: 15 Years 9 Months (best estimate)

Location: 84093
Housetrained: Yes
Cameo came to Sheltie Rescue along with her partner, a bi-black boy named Tucker. While Tucker is quite shy Cameo is only shy at first but after she knows she's in a safe and loving home she warms up very quickly and just wants to be loved and cuddled. She's very enthusiastic about wanting to be cuddled!
Cameo used to live outside at her former home but she's been living inside since arriving here and that's the kind of home we want for her. Many people ask me why people, who want a dog to live outside, want a dog at all. Each person lives their life their own way. Our guidelines require that Shelties adopted from Sheltie Rescue of Utah must live indoors.
Cameo arrived here very overweight for such a small girl. We've been working to reduce her weight but we've still got a ways to go. Whoever adopts her will most certainly need to work on this with her if you want to keep her in your life for a good long time.
We have been working on house training Cameo and she's doing really well with that although I'm not sure if she's 100% there. She's pretty good though. Cameo is very sweet and very smart. She knows how to swing her crate door open so she can get into it. She's crate trained. Cameo is going to be a wonderful companion to a family that wants to love and care for her. Cameo requires a premium quality dog food in order to maintain good health. Many supermarkets are now carrying premium dog foods are great prices. Some examples are Iams dog food and Black Gold which is a highly regarded premium dog food that I've noticed being sold at Harmon's Grocery store for a low price relative to what you might pay at a specialty store.
One of the most fun things about Cameo is how enthusiastic she is about loving you and being loved back. Her entire body wiggles when she's REALLY happy and that is such a cute sight. I love it! Cameo has little to no training like SIT, DOWN, etc. but she'd be an easy girl to train --- which is always a great idea both for bonding and safety.
By the way, the video attached to this listing shows a lot of Shelties but it shows a lot of Cameo and Tucker. If you're interested in more information about adopting Cameo please fill out the Application for Adoption at SheltieRescueUT.org and feel free to give us a call at 801-942-4762. I'll try to get more still photos of Cameo up. Cameo's adoption fee is $300.00.
More about Cameo
Good with Dogs, Good with Cats, Good with Kids
Donate or Sponsor

Support is needed to save the dogs we love.

Your sponsorship of $5.00 or $10.00 a month helps your favorite dog more than you might think. Please consider making a small donation.

==============================================================

Is Your Pet's Food Recalled?
Video of Cameo: